The Background of ENCoRE
---
Education and research in the protection of cultural heritage is a comparatively new academic discipline within universities. Progress has been made over the last ten years to further develop conservation-restoration education and research and to equate it more clearly to other academic disciplines. But even on the European level, financial and human resources within cultural heritage protection and research are very limited. Without the support of EC research funding substantial developments into the conservation of several specific areas of indoor and outdoor cultural heritage would not have been possible.

Cultural heritage
UNESCO defines cultural heritage as the entire corpus of material signs either artistic or symbolic, handed on by the past to each culture and so to the whole of mankind. Cultural heritage is not only a source for business and economy, but a fundamental condition for the maintenance and development of society and its economy. The preservation and presentation of cultural heritage should therefore be a corner-stone of any cultural policy.

The discipline of conservation-restoration
Over the last fifty years it has become increasingly evident that the conservation of cultural heritage poses problems too complex to be solved within the existing systems of practise, based on craft skills supported by related academic disciplines e.g. art history and the sciences etc. During this time many academic study programmes in conservation-restoration of cultural heritage became established in Europe and graduates from these institutions began to enter the field of conservation-restoration. Although different in level and quality of provision, all these study programmes aimed to draw together the necessary practical and technical skills with those of related humanistic and scientific disciplines. They were designed to provide structured programmes of study where practise was supported by a clear underpinning of knowledge, and where research could be supported and fostered. During this time, the dangers of commercial interests and pressures, which could result in poor quality conservation-restoration with potentially disastrous and irreversible results, were also acknowledged.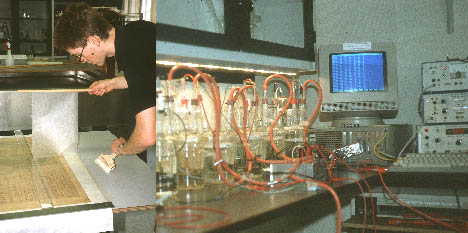 The ENCoRE clarification document
in the encore document "clarification of conservation-restoration education at university level or recognised equivalent" it is defined that conservation-restoration as an academic discipline must be based on the highest level of research. one major aim is that by 2010 at the latest, all conservation-restoration education in europe will fulfil the bologna declaration for european higher education. the clarification document takes into consideration the bologna declaration on european higher education.
The clarification document states that the basis of conservation-restoration education consists of "an appropriate balance between integrated theoretical and practical teaching as defined in the Document of Pavia". The aim must therefore be that " the conservator-restorer licensed for independent practice is per definition a graduate at Master's level from a university or governmentally recognised equivalent, or doctoral research level (PhD). The overall length of study for entry into the profession or to continue to doctorate level should be five years."
The research based education
The clarification document describes what a graduate should be competent in when entering professional practice. The CON.B.E.FOR. project (A Comparative Study of European Academic Education in the Conservation-Restoration of Cultural Heritage, 2000) identified twenty subjects as being essential to the syllabus of any study program in conservation-restoration, and that "supporting theoretical subjects should be carefully integrated into the curriculum and closely related to conservation-restoration practice which should constitute the major part of the syllabus". The aims and objectives of doctoral studies within the discipline of conservation-restoration are also described. However, the process of developing research and research based education requires resources that can only be made available through continuos European co-operation supported by the EC Framework Programmes and other initiatives of the Community.
---